The De Lacy Saga

I can trace my family back 35 generations through my paternal grandmother Elizabeth Lacy to Lassy, Normandy, circa 1040 AD. Brothers Ilbert and Walter de Lacy fought at the Battle of Hastings with William the Conqueror (also an ancestor) before becoming barons in Yorkshire and the Welsh Marches. The de Lacys are one of eight founding families from Normandy that form the headwaters of my family 'watershed' including houses Clare, Tosney, Bohun, Bigod, Beaumont, and Warenne. Ancestors include dukes, barons, knights, crusaders, wronged heiresses, bastards, rebels, explorers, kidnappers, murderers, preachers, immigrants, slave-owners, revolutionaries, six kings of England, three kings of Scotland, a dozen Welsh and Irish princes, and seventeen of the twenty-five barons who put their names to the Magna Carta.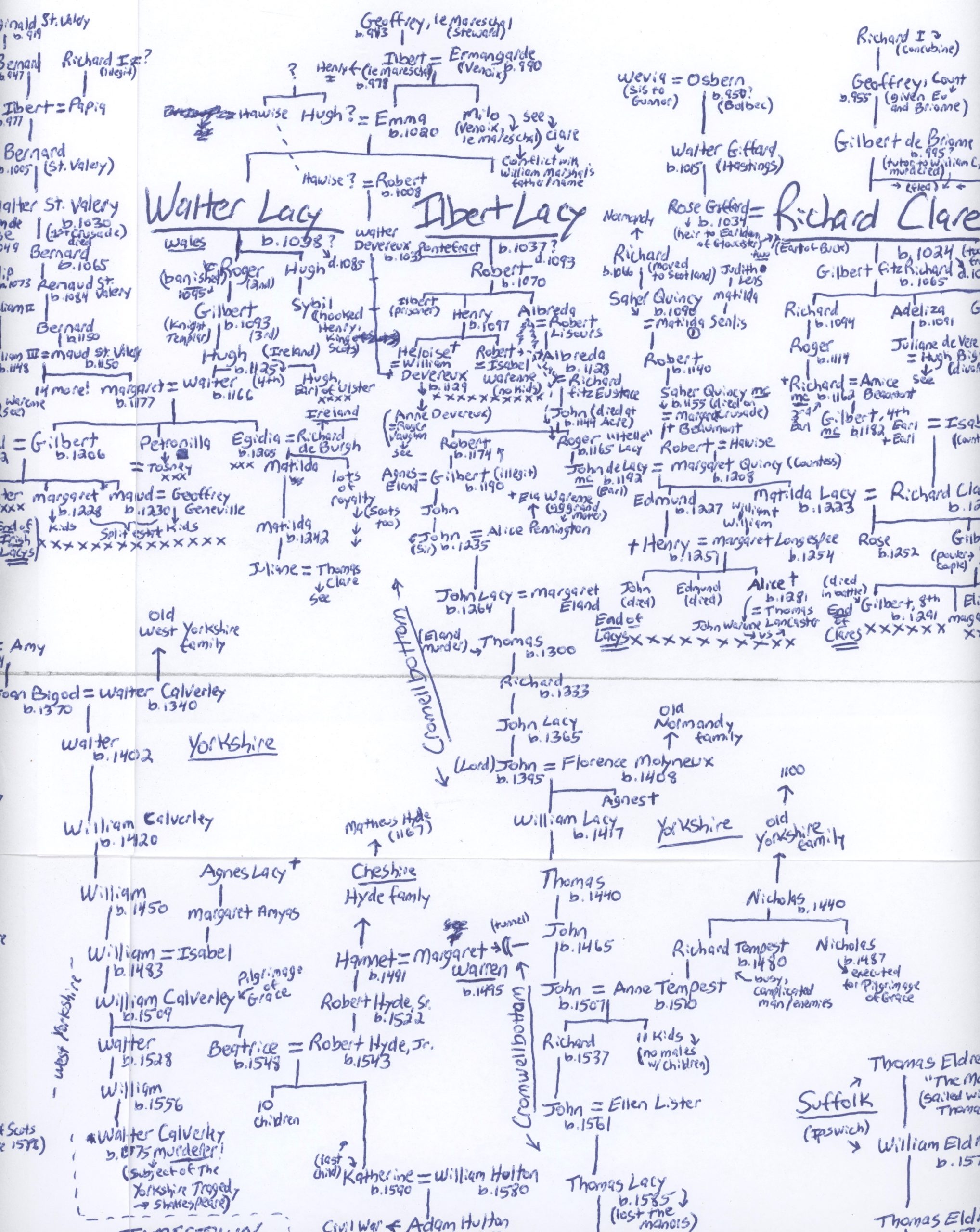 I began researching my de Lacy 'watershed' in 2020. There are at least 225 individuals in the watershed, including members of the Armitage, Aston, Calverley, Hyde, Stanley, Savage, Eldred, Smith, and Holcombe branches. Nearly all of my ancestors emigrated to the South. Two survived the 'Great Starving' in Jamestown in 1609. One greeted the first slave ship to reach America – The White Lion – when it arrived in 1619. One fought at the pivotal Revolutionary War battle of Kings Mountain in South Carolina; one captained a privateer in the war; another served in General Washington's personal bodyguard. Colonel Watson Lacy fought for the Confederacy in the Civil War and was injured at the Battle Of Murfreesboro. He married Sarah Holcombe, a younger sister to Emily Holcombe, a great-grand parent of William Faulkner.

My goal is to complete the research and write up all these great stories into books – and have fun!