My Work Falls Into Two Phases:

               (1) A West That Works (1988-2005)    (2)

The Age of Consequences

(2006-)
A WEST THAT WORKS:  My work begins in the the American West, where I spent my formative years hiking the region's trails, driving its freeways, investigating its ruins, and exploring its wide open spaces. Wanting to know more, I studied the West's history, read its authors, and photographed its vistas. With the founding of the Quivira Coalition in 1997, I switched from an observer-interpreter of the West to an active participant on front line issues. I had anguished questions: Why didn't ranchers and environmentalists get along better? What could we do to energize the radical center? How do we reach across the urban-rural divide? Where could we heal damaged land along with damaged relationships? My creative responses included photography, archaeology, activism, essays, column-writing, and the Quivira Coalition.

THE AGE OF CONSEQUENCES: In 2006, my work transitioned in response to the devastation caused by Hurricane Katrina. Climate change jumped onto my radar screen, shifting how I looked at the relationships between land, water, and people. My concerns became global and urgent. My anguished questions expanded: How do we build resilience in our land and communities? How can we strengthen local food systems? How can we best sequester carbon in soils? How do we scale-up regenerative agriculture? What other nature-based solutions exist that can address our challenges? My creative answers included book-writing, a refocus of the Quivira Coalition's annual conference, a journal, a blog, lectures, photography, fiction, and co-authorship.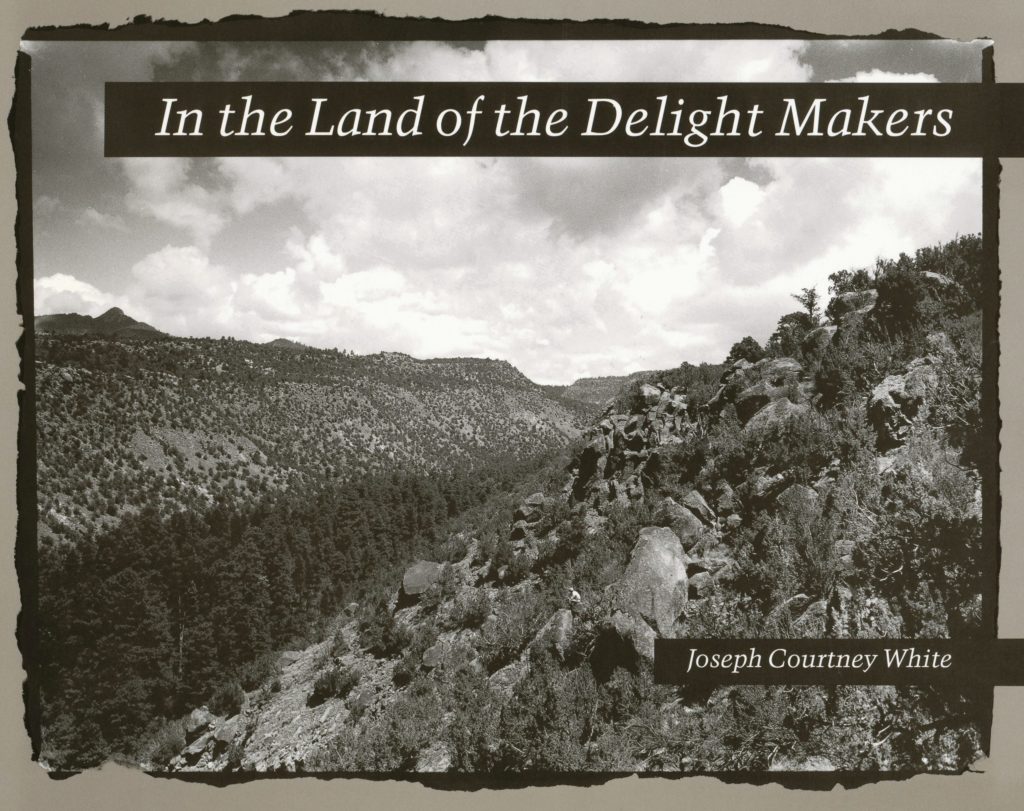 In the Land of the Delight-Makers: an Archaeological Survey in the American WestWest
A Documentary Photography Book (with text)    1988-89    (University of Utah Press 1992)
Questions: How do we get beyond stereotypes when depicting the modern American West? What is the nature of work on the land today?
As I began to explore the West, I was struck by the power and persistence of shop-worn stereotypes and iconic imagery of the region. It wasn't the West I knew. From personal experience, I suspected there were more archaeologists than cowboys at work. In the spring of 1988, I purchased a medium-format Bronica camera and began taking photos of the West from a different perspective. My inaugural project took me to the canyons of the Parajito Plateau in Bandelier National Monument, northern New Mexico.

"During the summers of 1988 and 1989, I had the opportunity to work with the National Park Service's Bandelier National Monument Archaeological Survey as a photographer. Initially, I went into the field with the simple goal of capturing the spirit of the survey for the Park Service … I created this book with three goals in mind: first, to introduce a long-neglected aspect of archaeological fieldwork to the reading public; second, to contribute to the education of the archaeological enthusiast; and third, to place archaeologists in the larger context of the modern American West …" – from the Introduction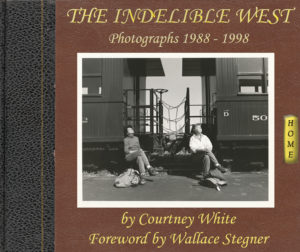 The Indelible West: Photographs 1988-1998 
Foreword by Wallace Stegner

A Fine Art Photography Book (black-and-white)    (published as an online book 2012)
Questions: Why wasn't the vibrant and diverse American West that I knew and saw getting more exposure? What did the frontier look like today and was it still influencing our national character?
This project was born on a summer day in 1988 while visiting my parents in Phoenix, Arizona. I was struck by a thought: in less than two years the American West would mark the centennial of the closing of its famous frontier. Photographing the modern frontier as a way of celebrating this landmark event would be an interesting project.
"The West as a place and a process created indelible impacts on our nation and continue to change us to this day, and will never stop doing so. The frontier is very much alive. That's because the meeting-line between nature and culture, visible on the land and in its people, is constantly evolving and renewing itself. The photographs in this book are a snapshot of one moment in the frontier's evolution, the intersection of a time and place now gone." – from my Introduction (2012)

"What we have in Courtney White's book is a recording of one passing phase of that frontier. And what a pleasure it is to see the real Wests captured in their flow! What a reassurance it is to see the Wests recorded in their living reality, instead of getting another view of someone being cut off at the pass in the Alabama Hills of the Kanab Desert, shooting wildly with both hands from guns that never need re-loading."                  – Wallace Stegner from his Foreword (1992)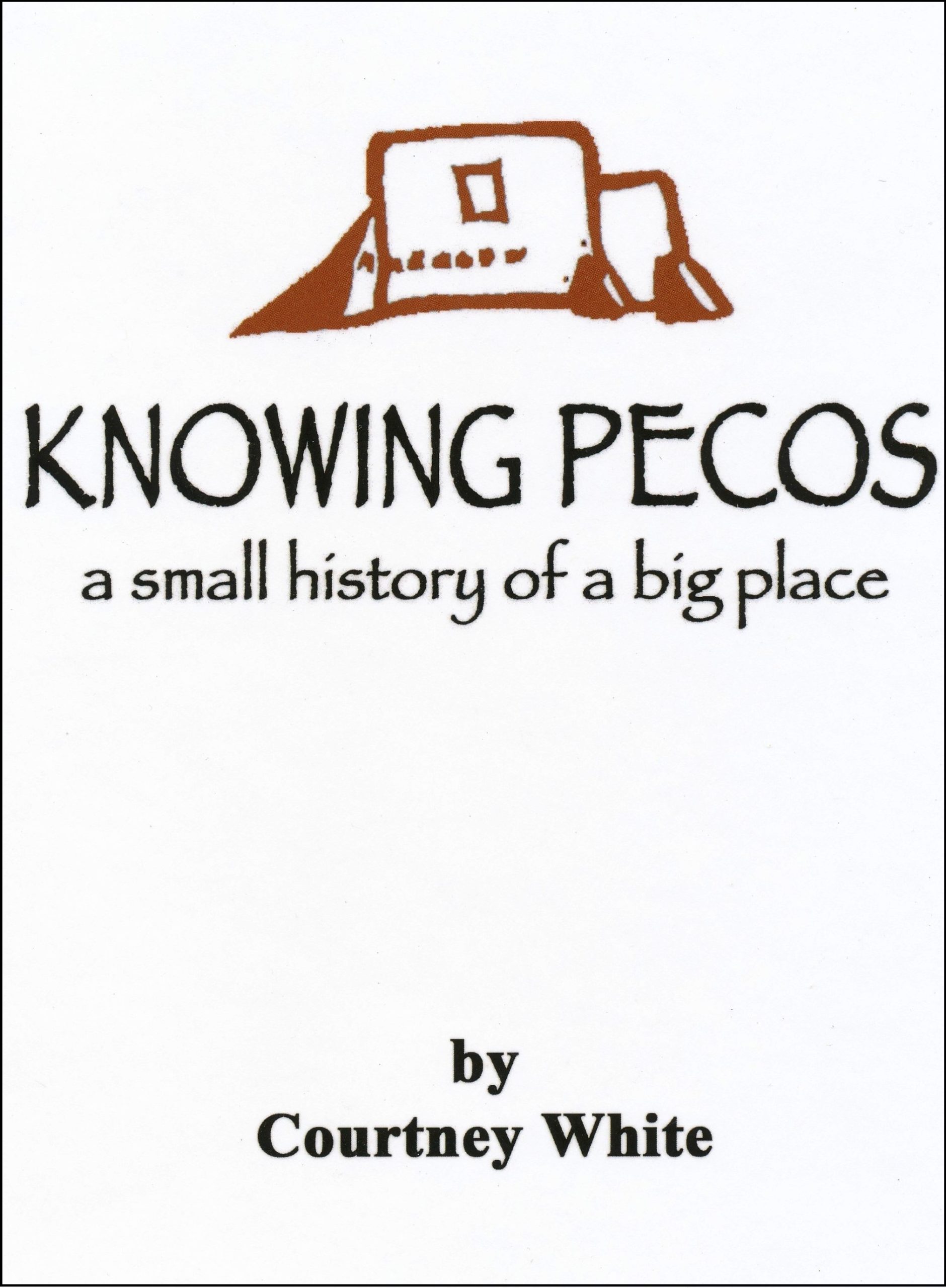 Knowing Pecos: a Small History of a Big Place
A History Book      1992-1995      (Dog Ear Press 2013)

Questions: What makes a place special? Geography? Natural resources? Beauty? What makes it endure in our imagination and our hearts?
For three seasons I worked as a documentary archaeologist at Pecos National Historical Park, located near Santa Fe. I kept a journal with the goal of writing a book about the tribulations of the national park idea in the modern world, a hot topic at the time. In the end, I wrote an admiring history of the park instead – and by extension a portrait of northern New Mexico, my new home.
"No other national park unit in the nation can tell the story of human history in North America as Pecos can; and no other park can do so with the aid of such an attractive landscape… Everywhere I went in the park, I ran into beauty and intrigue. Better yet, nearly every enchantment concealed a secret: the foundations of an abandoned home in a pasture, the remains of an old mill in a grove of river trees…We often joked that the whole park was one big archaeological site, and we were not far wrong. Beauty and history are interwoven at Pecos and their inseparability made every day an adventure…"  – from my Introduction
Adobe Typology and Site Chronology: a Case Study From Pecos National Historical Park
A Peer-reviewed Archaeological Research Paper        1996       (Kiva vol. 61, no. 4)
Question: Why were adobe bricks overlooked as a source of archaeological information about historic structures?
During my documentary work at Pecos, I noticed differences in the colors and shapes of the form-molded adobe bricks used in the Spanish colonial-era buildings. Working with Jake Ivey, a historian with the National Park Service, we embarked on a research project that eventually correlated multiple adobe and mortar types to the documented history of the 18th-century church and convento, solving some stubborn riddles about its construction sequence. I subsequently wrote up our findings and submitted them to Kiva, the Journal of Southwestern Anthropology and History.
"The correlation between the typology and the mission's documented history was buttressed by botanical and geochemical analyses of adobe soils. It is likely that this method of research can be applied to other historic, and possibly prehistoric, sites with equally beneficial results." – from the Abstract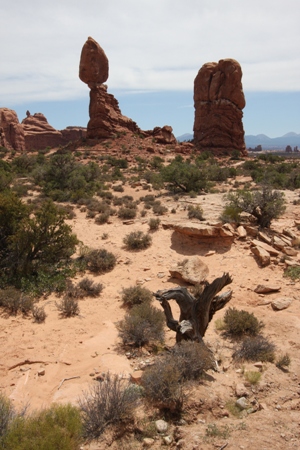 Canyonlands
A Two-Act Play               (1995-1999)             unpublished
Questions: Why are westerners so rootless? Why can't we live side-by-side?
This play explores the conflict between 'boomers' and 'stickers' in the West at the start of the 21st century. It is set in a bicycle shop in a small town in southeastern Utah during one summer. The shop's presence has caused conflict between its owner, Joshua Rose, who recently arrived with his family from Los Angeles, and the last remaining farmer within town limits, who doesn't like the changes he sees taking place to his home. A plot twist halfway through the play turns everyone's expectations upside down. And much like the town he has invaded, Joshua will never be the same again.
"This place has become so diverse nobody gets along anymore." – a resident of Boulder, Utah, in a newspaper quote.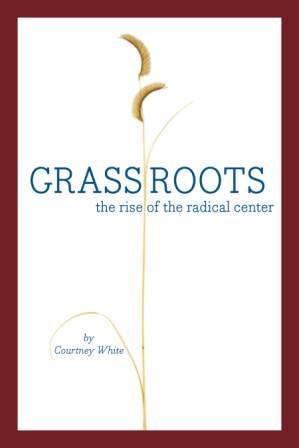 Grassroots: The Rise of the Radical Center
Three Columns: The Uneasy Chair (1995-97); The Far Horizon (1997-2006); and The Next West (2009-2011)      (Dog Ear Press 2016)
Questions: Why did popular environmental laws come under assault by Congress and what did it say about the state of conservation movement? What do environmentalists want? Why can't we work together with rural residents in the radical center toward common goals? What happened to the so-called 'New West'? Why was it a bust?
This book combines three columns that I wrote over sixteen years – the first for the newsletter of the Rio Grande Chapter of the Sierra Club; the second for the Quivira Coalition; and the last one for my web site. The first two columns chronicle the rise of the collaborative conservation in the Southwest from the on-the-ground perspective of one of the movement's leaders; the third explores the broken promise so-called New West.
"In the American West during the 1990s the daily news featured political gridlock, anti-government anger, Us vs. Them factionalism, political assaults on environmental regulations, local demands to turn over federal land to the states, 'patriotic' armed militia groups, courtroom brawls between urban and rural residents over endangered species, and a bunch of finger-pointing and trash-talking generally. Sounds like today!… If problems are cyclical so are solutions." – from my Preface.
The term radical center was coined by Bill McDonald, a rancher in southern Arizona and cofounder of the Malpai Borderlands Group, a pioneering collaboration between ranchers, conservationists, scientists, and public land managers. It describes a 'third way' beyond polarization, a grassroots convening of diverse people to discuss their common interests rather than argue their differences and who agree to work cooperatively on a pragmatic program of action that improves the well-being of all living things.

The Quivira Coalition

A Nonprofit Organization           Cofounder and Director                 (1997-2015)
Questions: How can we share common-sense solutions to the rangeland conflict? Is it possible to build resilience by fostering ecological, economic and social health on western landscapes through education, innovation, collaboration and progressive public and private land stewardship? Can we help energize the radical center in the Southwest? Can we implement social change? Can find solutions to global problems and encourage them to be adopted at scale that matter?

I cofounded the Quivira Coalition with rancher Jim Winder and conservationist Barbara Johnson, both of whom I met in the Sierra Club, with the goal of building a radical center among ranchers, conservationists, public land managers, scientists and others around practices that improve economic and ecological resilience in working landscapes. Projects included: a ranch apprenticeship program; a long-running riparian restoration on behalf of the Rio Grande Cutthroat trout; a collaboration with the Ojo Encino Chapter of the Navajo Nation; Resilience, a journal; and the idea of a carbon ranch.
During my tenure as Executive Director, at least one million acres of rangeland, thirty linear miles of riparian drainages and 15,000 people directly benefited from the Quivira's collaborative efforts. We worked closely with Bill Zeedyk to disseminate his innovative ideas on ecological restoration. We organized over one hundred educational events on topics as diverse as drought management, riparian restoration, fixing ranch roads, reading the landscape, monitoring, water harvesting, low-stress livestock handling, and grassfed beef; published numerous newsletters, bulletins, field guides, and books. 
I was the author of fifteen Annual Conferences (2002-2016). The first one was a long shot. Would anyone come to a meeting of the radical center? When three hundred people filled a ballroom, we knew the answer. Conference goals included: introducing innovative ideas; giving science a platform; creating a space for diverse friendships; and sharing stories of success and hope. We specialized in topics that were ahead-of-their time, such as grassfed meat (served at the banquet), Bill Zeedyk's restoration ideas, bridging the urban-rural divide, resilience, carbon sequestration, and climate change.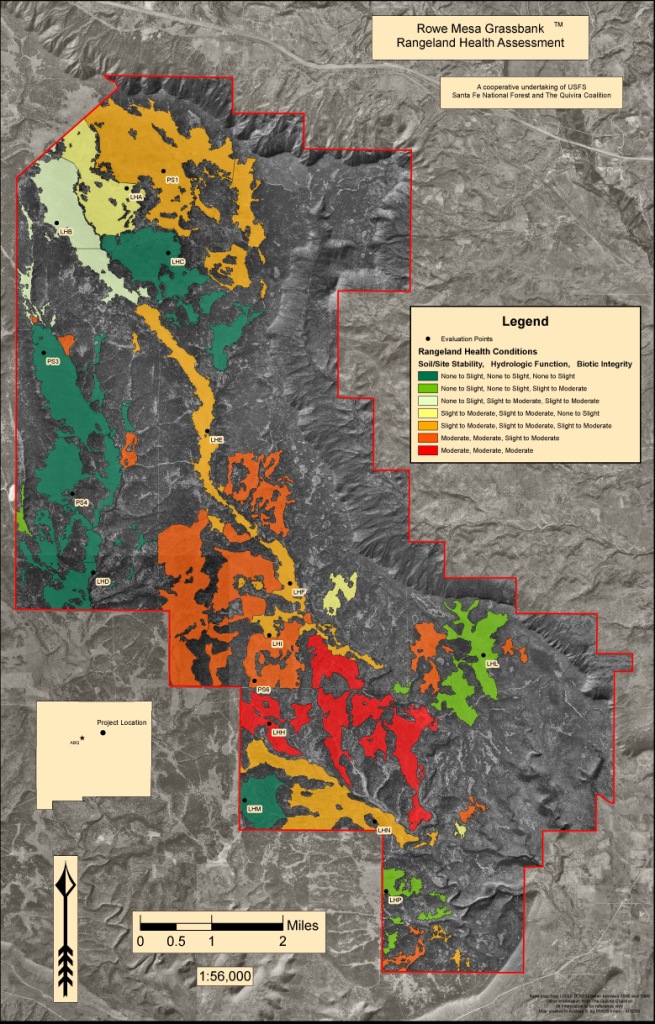 The Valle Grande Grassbank

A Cattle Ranch                 Quivira Coalition        (2004-2010)
Questions: Is it possible to implement innovative ideas and new models on public lands, or will old paradigms continue to rule? What does it actually take to make collaborative, public-private partnerships work effectively? Can land health serve as a management objective? Is ecological restoration practical on public lands? Can a conservation organization run a ranch? Is selling local, grassfed market a viable economic activity?

In 2004, the Quivira Coalition took over management of the Valle Grande Grassbank, a 36,000-acre ranch on U.S. Forest Service land near Santa Fe, New Mexico. The Grassbank was started by author and environmentalist Bill deBuys, working for the Conservation Fund, as an innovative model of a public-private partnership with the aim of restoring ecological health to land while strengthening ranching traditions. Cattle were brought to a Grassbank for a period of time so the home ground could receive restoration attention, including prescribed fire treatments. Grassbanks were seen as a way to break the cycle of bureaucratic gridlock and conflict that had paralyzed public lands across the West. At one point, more than a dozen other Grassbanks were in operation across the region.

The Quivira Coalition operated the Valle Grande Grassbank under its original vision for two years before transitioning to a hybrid model that enabled us to become cattle owners and produce grassfed meat for local sale. The pace of change was slow and bureaucratic indifference was large. We learned that the Grassbank model had inherent financial challenges that proved difficult to overcome (a rancher on Quivira's Board quipped that our Grassbank had "all the costs of a ranch and no income.") The financial crisis of 2008-9 that followed the Wall Street collapse adversely affected nonprofit organizations, including us. For a variety of reasons, nearly every other Grassbank in the region called it quits. In 2010, we sold the ranch, ending our Grassbank experiment.

Bill deBuys' article about Grassbanks in the Quivira Coalition newsletter (1998)

View the flyer we produced for our grassfed meat
"Grassbank 2.0" – an article by myself and Craig Conley analyzing Grassbanks and how they might be improved, published in the journal Rangelands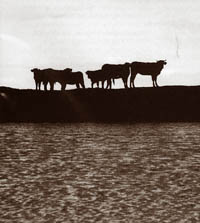 Essays: the Quivira Years

Essays on the Radical Center, the New Ranch, the Carbon Ranch, and the Fifth Wave          1998-2012

Questions: Are there innovative answers to our land and water challenges? How do we find common ground? How has the conservation movement changed? How did the Quivira Coalition get started? What have we learned from our experience in the field?

This is a compilation of essays written during my years at the Quivira Coalition for various publications, including Farming, Range, and Acres. Topics include: the radical center, collaborative conservation, grassbanks, ecological restoration, The New Ranch, carbon farming, land health, local food, agrarianism, and the Age of Consequences.
In 2005, I had the deep honor of having my essay "The Working Wilderness" published by Wendell Berry in his collection of essays titled The Way of Ignorance.

"I have asked Courtney to lend his essay to this collection for three reasons: First, I think it is a good essay. Second, it tells of a serious effort and continuing effort on the part of some ranchers and conservationists to develop local sufficient to to support a locally adapted land economy. This is an effort that is needed simply because it is necessary. If humans don't learn to adapt their land economies to the nature of their places, that will be a disaster, first for their places and then for the humans. Third, it is an essay about cooperation between people and nature, between people and their places, and between ranchers and conservationists. This, again, is necessary…" – Wendell Berry

Read "The Working Wilderness" and Wendell Berry's Introduction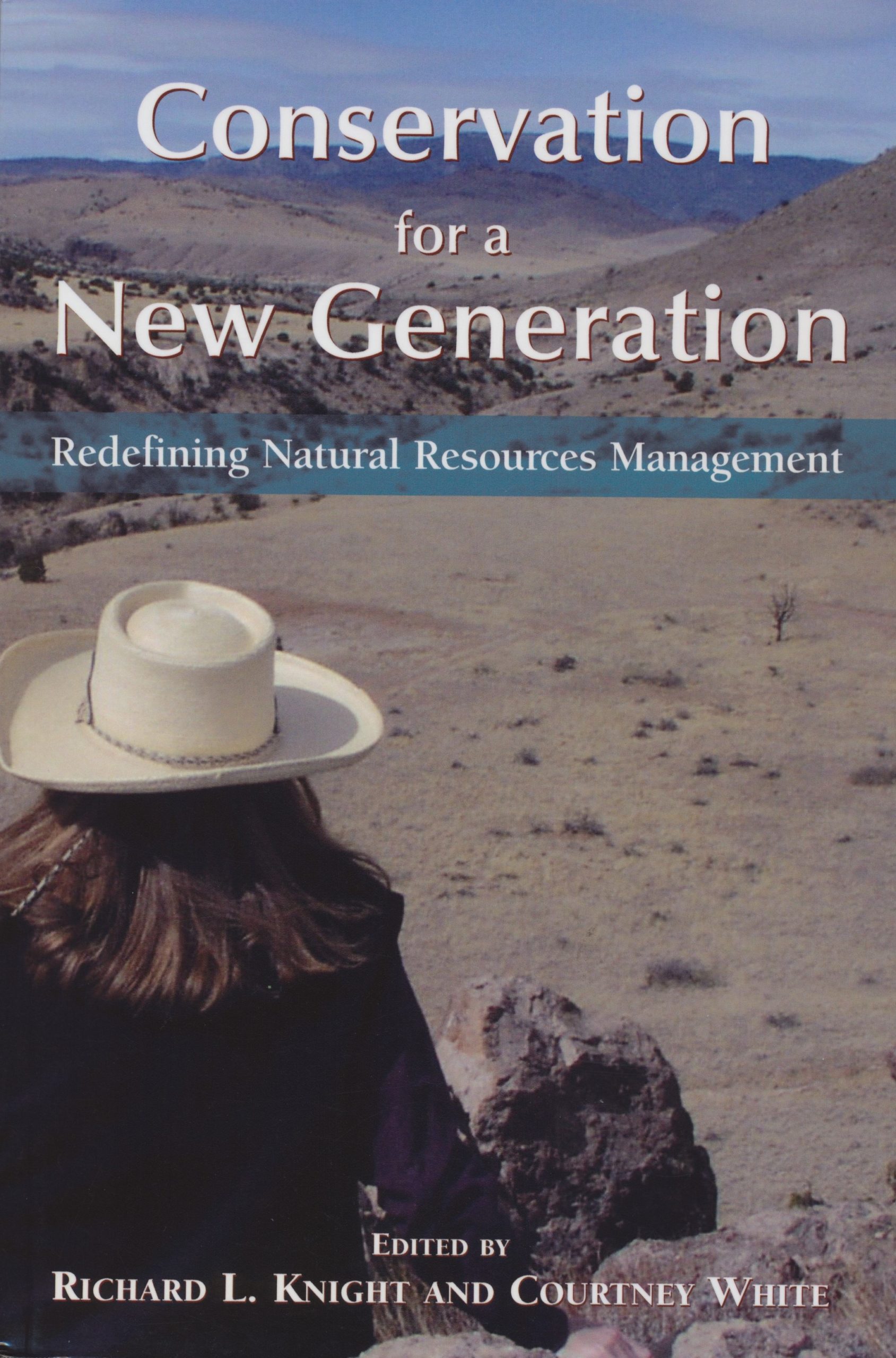 Conservation for a New Generation: Redefining Natural Resource Management
edited by Richard L. Knight and Courtney White

Essays                    (Island Press 2009)
Questions: How will natural resource management as a discipline and a practice adapt to the new realities of a changing world? How will it be taught? What paradigms need to be discarded and which ones need to be embraced?

Colorado State University professor Rick Knight asked me to co-edit a volume of essays on the changing attitudes about resource management and conservation in the 21st century. In particular, he wanted to explore the rise of the collaborative conservation movement, the broadening of research and conservation paradigms to include working lands, and the increasingly urgent focus on ecosystem services, healthy food, and sustainability. In addition to my editorial duties, I contributed a chapter titled "Land Health: a Language to Describe the Common Ground Below Our Feet."

"What conservation is today is highly debatable. What is not debatable is that effective conservation – today and in the future – will be different from what it has been. We need a vision that configures the changes into a pattern. Such a blueprint not only will provide guidance to agencies and organizations, but also will offer a conceptual and pragmatic road map for students, who are the future practitioners. Without such direction, it is certain that their education will prepare them for a time that has passed." – Rick Knight, from his Introduction
Here is my essay (Chapter Ten) from the book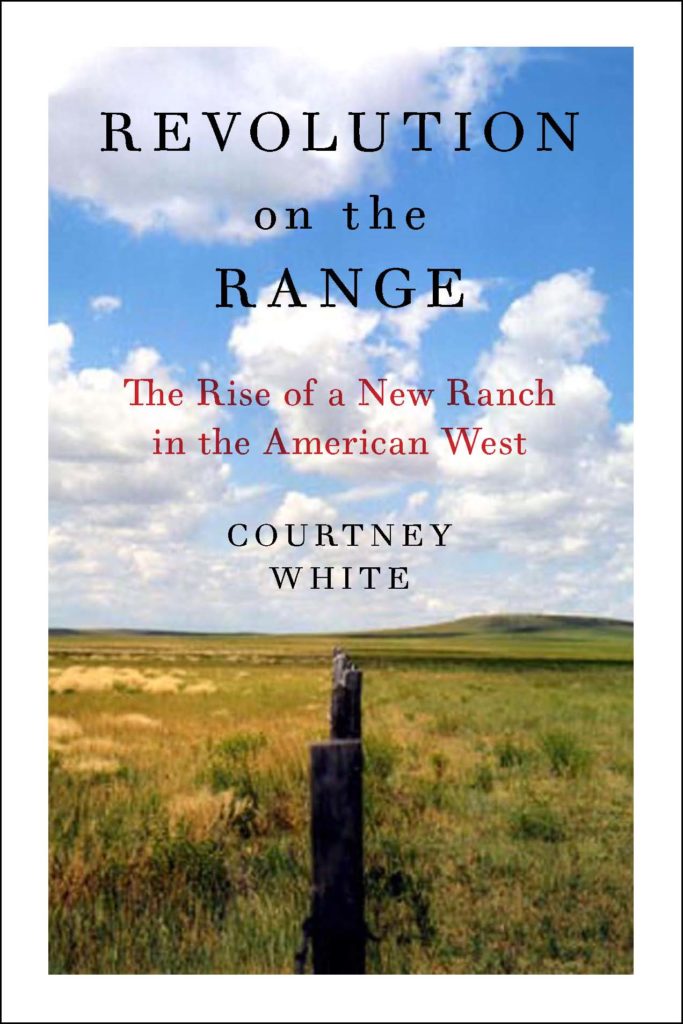 Revolution on the Range: the Rise of a New Ranch in the American West
A Collection of Profiles and Essays          2002-2006           (Island Press 2008)
Questions: Environmentalists and ranchers share many interests so why don't they get along? Aren't both sides, and everyone in between, losing what we all value most – the health and diversity of the West's wide open spaces?
While conventional wisdom told us compromise was impossible, a small group of ranchers and environmentalists crossed enemy lines for the sake of preserving the land they all deeply loved. And remarkable changes started to occur…Courtney White brings us the story of these peacemakers, including White himself, who began turning resentment, conflict, and suspicion into respect, cooperation, and trust. It is a powerful lesson in resolving environmental challenges, not just on the range but across the land. – Island Press
"As the grazing debate faded in the region and as hope began to grow alongside the wildflowers and bunch grasses, an answer to my anguished question began to reveal itself. We could get along, and in places did, especially where the dialogue started with soil, grass, and water. Peace, in other words, was possible." – from my Prologue
"In a time when environmental reporting has become justifiably gloomy, this book is a refreshing breath of pragmatic optimism. White's vision of stewardship, openness to new ideas, giving as well as taking, and flexibility will inspire anyone who loves humanity or the great outdoors." – Publishers Weekly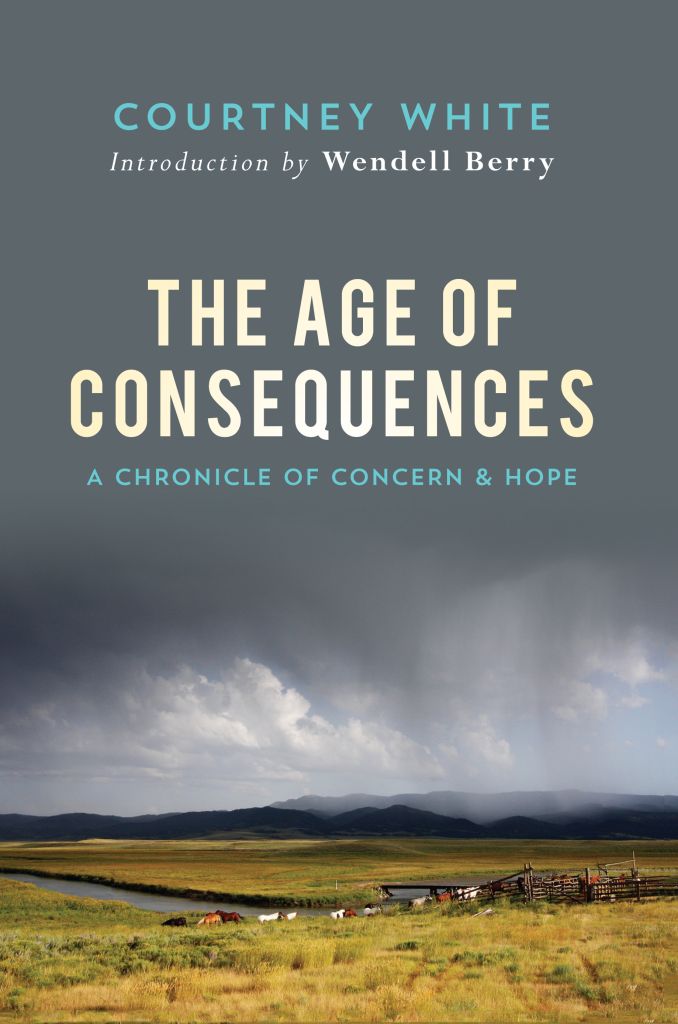 The Age of Consequences: a Chronicle of Concern and Hope
A Collection of Essays                   2002-2011              (Counterpoint Press 2015)
Questions: Are all the polar bears going to die? How do you explain to your children what we've done to their planet over the past sixty years? How do we explain our inaction too?
We live in what sustainability pioneer Wes Jackson calls "the most important moment in human history." The various challenges confronting us are like a bright warning light in the dashboard of a speeding vehicle called Civilization, accompanied by an insistent buzzing sound. I called this moment the Age of Consequences – a time when the worrying consequences of our hard partying over the past sixty years have begun to raise anguished questions. The book is a series of essays that blend headlines with personal narrative and observation, travel, research, and hopeful answers.
"White strikes a refreshing tone that will resonate with readers turned off by the superior or condescending attitudes of some environmentalist writers…Throughout, he balances abstract questions and ideas with tangible life experiences…Readers will be engaged by his frank and thoughtful discussion of our modern environment."
– Kirkus Review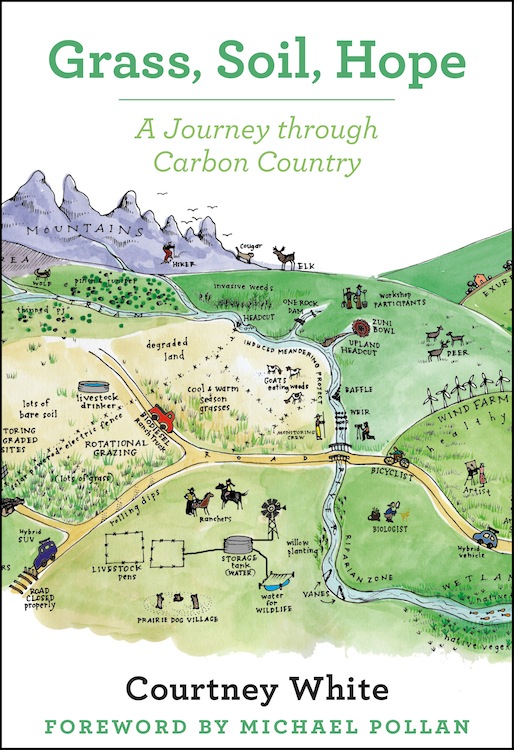 Grass, Soil, Hope: a Journey through Carbon Country
A Nonfiction Book       2010-2013      (Chelsea Green 2014)
Question: Could soil carbon and regenerative agriculture save us from climate change?
Right now, the only possibility of large-scale removal of greenhouse gases from the atmosphere is through plant photosynthesis and related land-based carbon sequestration activities. These include a range of already proven practices: composting, no-till farming, climate-friendly livestock practices, conserving natural habitat, restoring degraded watersheds and rangelands, increasing biodiversity, and producing local food. Grass, Soil, Hope takes readers on an entertaining journey on how all these practical strategies can be bundled together into an economic and ecological whole.
"Hope in a book about the environmental challenges we face in the 21st century is an audacious thing to promise, so I'm pleased to report that Courtney White delivers on it. He has written a stirringly hopeful book."
– Michael Pollan, from the Foreword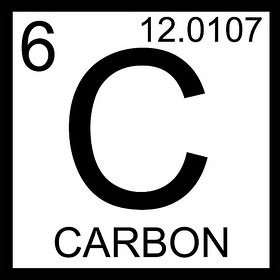 The Story of Carbon

A Blog      2012-2016      combined into a PDF (2016)
Question: How do you make boring carbon interesting?
I wrote a blog from 2012 until 2016 on carbon, an amazing element that profoundly affects every facet of our lives. My principle goal was to explore the role soil carbon plays in regenerative agriculture and its potential to sequester atmospheric carbon dioxide, but I quickly learned it has so many other values as well. Carbon is fundamental to life – and it's a lot of fun too! I compiled the blog into a single document and offer it to readers in hopes you'll come to appreciate this incredible element as much as I did.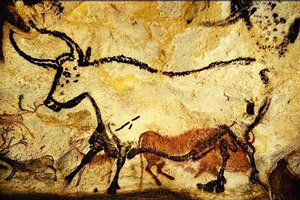 Thinking Outside the Holocene: Paul Gauguin's Question and Aldo Leopold's Answer

A Lecture        2012        Delivered at the Quivira Coalition's 11th Annual Conference (2012)
Questions: Where are we going? What are we? Where did we come from?
This is a lecture I gave at the Quivira Coalition's 11th Annual Conference, in 2012, which explored human origins, motivations, and future challenges. It is a talk provoked by Paul Gauguin's famous painting on these topics and resolved (partially) by Aldo Leopold's experiences and writings. I tried to express my hopeful feelings about the challenges we face during This Moment In Time.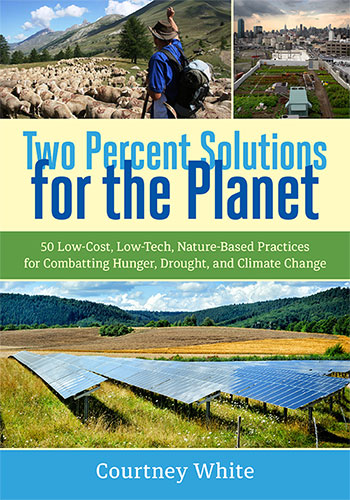 Two Percent Solutions for the Planet: 50 Low-Cost, Low-Tech, Nature-Based Practices for Combating Hunger, Drought and Climate Change
A Book of Solutions          2013-2015        (Chelsea Green 2015)
Questions: What are practical, tested, shovel-ready solutions to climate change that we can implement right now?
This book profiles fifty innovative practices that soak up carbon dioxide in soils, reduce energy use, sustainably intensify food production, and increase water quality and quantity. Why "two percent"? It is an illustrative number meant to stimulate our imaginations. It refers to: the amount of new carbon in the soil needed to reap a wide variety of ecological and economic benefits; the percentage of the nation's population who are farmers and ranchers; and the low financial cost needed to get this work done. Using photographs, graphics and short essays, the book is a great introduction for readers of all stripes.
"This book is Courtney White's most important work. It is the best practical guide to how we can begin to address the significant, unavoidable challenges awaiting us in our not-too-distant future. It inspires us to address these challenges creatively, especially with respect to our food and agriculture future, and to do it in cooperation with nature in ways that also heal the planet."
– Frederick Kirschenmann, author of Cultivating an Ecological Conscience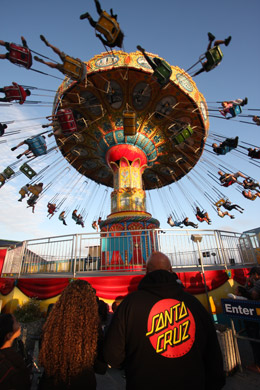 This Moment In Time: Photographs 2006-2015
A Fine Art Photography Project (color)         2006-2015            (Zenfolio 2016)
Questions: We are entering a critical period of time, what I came to call The Age of Consequences – what did it look like? What was normal now? Would be look back proudly? Regretfully? Nostalgically?
The devastation caused by Hurricane Katrina changed the focus of my work and made me confront the urgency of climate change. I suspected we were entering a critical period for action. Desiring to capture the mood of the times, I purchased my first digital camera began to take photographs as I traveled. My goal was to shoot images  that were "time dependent" rather than "timeless" in an attempt to interpret this important period of time.
The project ran until the Climate Summit in Paris in 2015, which I attended. At that point, a critical climate threshold (400 ppm) had been permanently crossed and I considered my project to be complete. I selected images based on their artistic and ethnographic qualities in documenting the decade between Katrina and Paris and collected them in a portfolio that I posted on Zenfolio in 2016.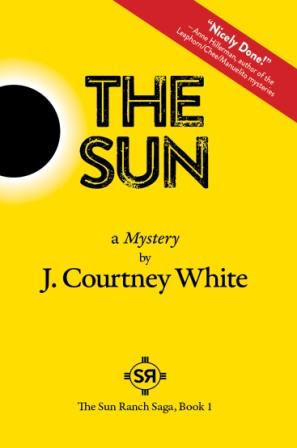 THE SUN: a Mystery

A Mystery Novel          set in 2008-09           (Early Hour Press 2018)
Question: What is land for? Can I explain it a mystery format?
A murdered ranch employee. A vanished suspect. A stolen rodeo horse. A black helicopter. Angry environmentalists. Menacing oil-and-gas developers. A Sasquatch hunter gone astray. A mysterious billionaire. A missing can opener…
Without warning, Dr. Bryce Miller, a young doctor in Boston, inherits a large, historic ranch in northern New Mexico from a wealthy uncle she barely knew. She flies out to sell The Sun to the highest bidder, but things get complicated when a body is found murdered on the ranch. Is it a warning meant for her? Meanwhile, she must choose among a colorful cast of suitors who want to turn the working cattle ranch into either: an upscale housing development with golf courses, an oil-and-gas field, a nature preserve, a casino resort, the underground home for a doomsday cult, or the plaything of a shadowy business mogul. Each is willing to pay a large sum of money – and maybe do anything – to get the ranch. Bryce has seven days to decide.
"I am not at all a mystery reader, but I absolutely loved The Sun and I can't think of a better person than Courtney White to tell this tale of the New West. The Sun is a true page turner and very informative about ranching and the West whether you live in the region or hope to visit. A very engrossing read, indeed!" – Deborah Madison, author of In My Kitchen and Vegetable Literacy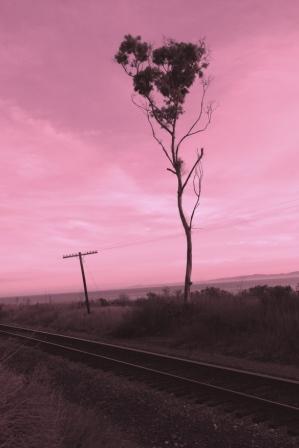 Consilience
A Novel                 set in 2016             looking for a publisher
Question: Where are we going?

Daniel notices a young woman behaving oddly in an upscale grocery store where she marvels at the bounty of food for sale. Thinking she must be a spy for a foreign government because of the high-tech watch she wears, he strikes up a conversation with her that changes his life utterly. Jo is a spy, but not the usual kind. She is a time traveler on a one-way mission to record information desperately needed in the future, employing technology – and special powers – that don't exist yet, as Daniel discovers.
Though Jo won't divulge details, things have gone badly wrong in the future, including politically. She needs his help to complete five Tasks and as they work together, Daniel begins to see our world very differently. Meanwhile, a shadowy group known as The Chasers pursues them as Jo attempts to complete her assignments before her time runs out. Danger and urgency bring Daniel and Jo closer until they fall in­ love despite the impossibility of their situation. After a brief parting, they become inseparable.
The story takes Jo and Daniel to places we take for granted: a grocery store (Chapter One), a mall, a zoo, a road, a farm, a high school, a suburb, a ranch, a theater, and a national park, among others. It asks questions on the minds of many young people today: where are we going as a society? Will we have our current bounty of food forever? What happens if the climate changes for the worse? Can we relax our vigilance over democracy?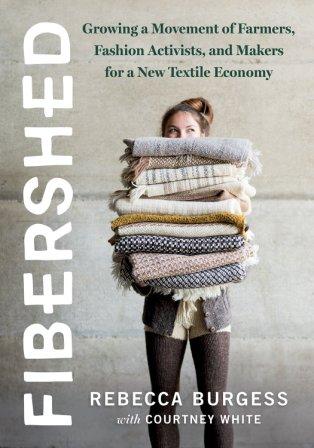 Regeneration

Co-authored Books                 2017 – 2022          (Chelsea Green Press)

I have been assisting  innovative farmers, ranchers, and nonprofit directors in the field of regenerative agriculture get their words into print with the support of Chelsea Green Publishing.
Regenerative agriculture is both an attitude and a suite of practices that restores and maintains soil health and fertility, supports biodiversity, protects watersheds, and improves ecological and economic resilience. It focuses on creating the conditions for life above and below ground and takes its cues from nature which has a very long track record of successfully growing things. By re-carbonizing soils via photosynthesis and biology, particularly on degraded land, regenerative agriculture can also sequester increasing quantities of atmospheric carbon (CO2) underground making it a low-cost 'shovel-ready' solution to climate change. Its multiple co-benefits, including the production of healthy, nutritious food, means it will be a critical component of our response to rising climate instability.