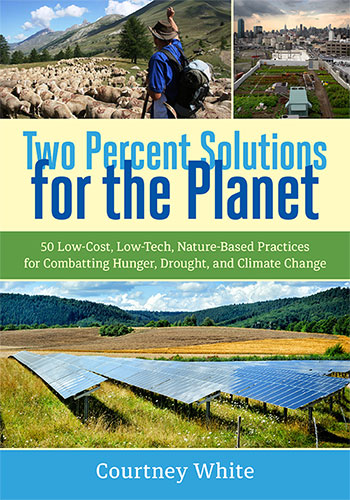 Two Percent Solutions for the Planet: 50 Low-Cost, Low-Tech, Nature-Based Practices for Combating Hunger, Drought and Climate Change
This book profiles fifty innovative practices that soak up carbon dioxide in soils, reduce energy use, sustainably intensify food production, and increase water quality and quantity. Why "two percent"? It is an illustrative number meant to stimulate our imaginations. It refers to: the amount of new carbon in the soil needed to reap a wide variety of ecological and economic benefits; the percentage of the nation's population who are farmers and ranchers; and the low financial cost needed to get this work done. Using photographs, graphics and short essays, the book is a great introduction for readers of all stripes.
"This book is Courtney White's most important work. It is the best practical guide to how we can begin to address the significant, unavoidable challenges awaiting us in our not-too-distant future. It inspires us to address these challenges creatively, especially with respect to our food and agriculture future, and to do it in cooperation with nature in ways that also heal the planet."
– Frederick Kirschenmann, author of Cultivating an Ecological Conscience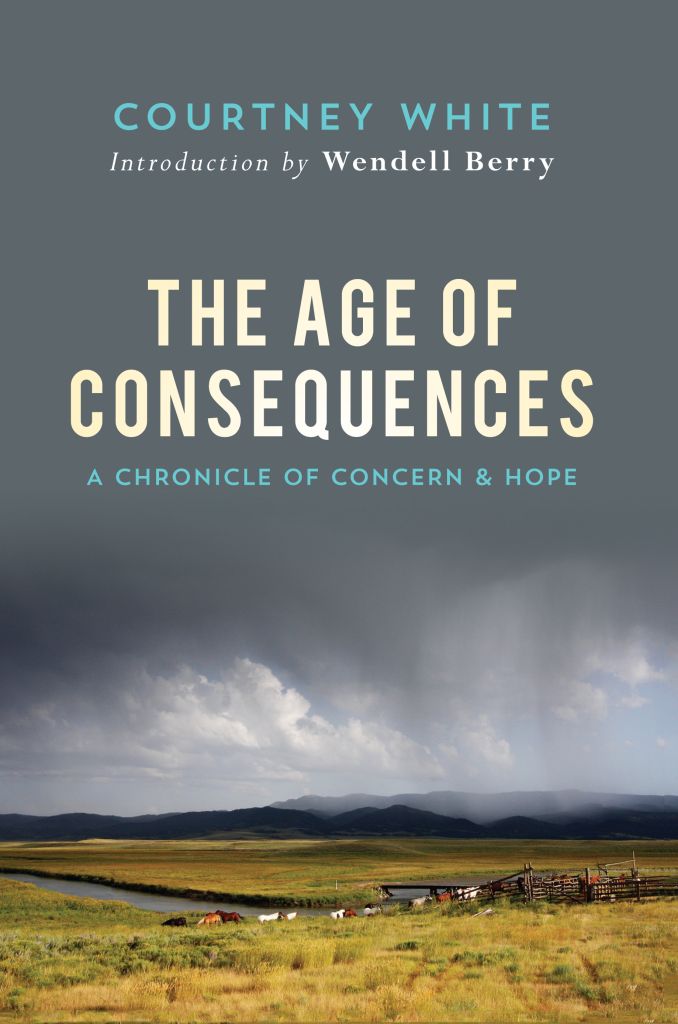 The Age of Consequences: a Chronicle of Concern and Hope
We live in what sustainability pioneer Wes Jackson calls "the most important moment in human history." The various challenges confronting us are like a bright warning light in the dashboard of a speeding vehicle called Civilization, accompanied by an insistent buzzing sound. White calls this moment the Age of Consequences – a time when the worrying consequences of our hard partying over the past sixty years have begun to raise anguished questions. The book is a series of essays that blend headlines with personal narrative and observation, travel, research, and hopeful answers.
"White strikes a refreshing tone that will resonate with readers turned off by the superior or condescending attitudes of some environmentalist writers…Throughout, he balances abstract questions and ideas with tangible life experiences…Readers will be engaged by his frank and thoughtful discussion of our modern environment."  – Kirkus Review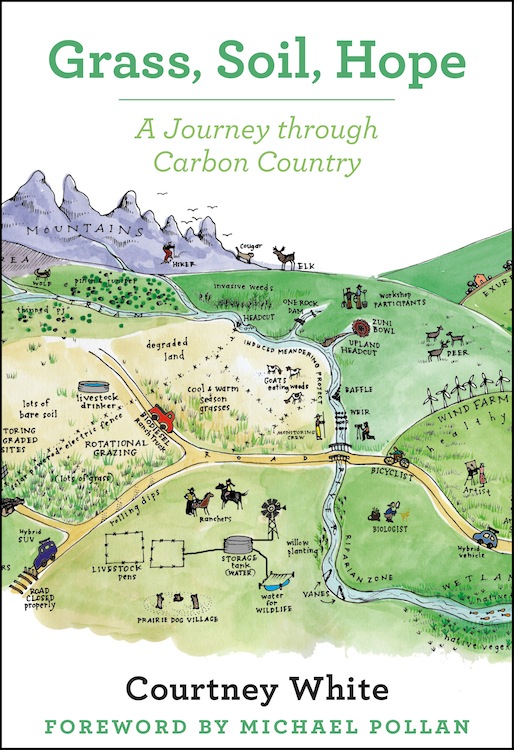 Grass, Soil, Hope: a Journey through Carbon Country
Right now, the only possibility of large-scale removal of greenhouse gases from the atmosphere is through plant photosynthesis and related land-based carbon sequestration activities. These include a range of already proven practices: composting, no-till farming, climate-friendly livestock practices, conserving natural habitat, restoring degraded watersheds and rangelands, increasing biodiversity, and producing local food. Grass, Soil, Hope takes readers on an entertaining journey on how all these practical strategies can be bundled together into an economic and ecological whole.
"Hope in a book about the environmental challenges we face in the 21st century is an audacious thing to promise, so I'm pleased to report that Courtney White delivers on it. He has written a stirringly hopeful book."
– Michael Pollan, from the Foreword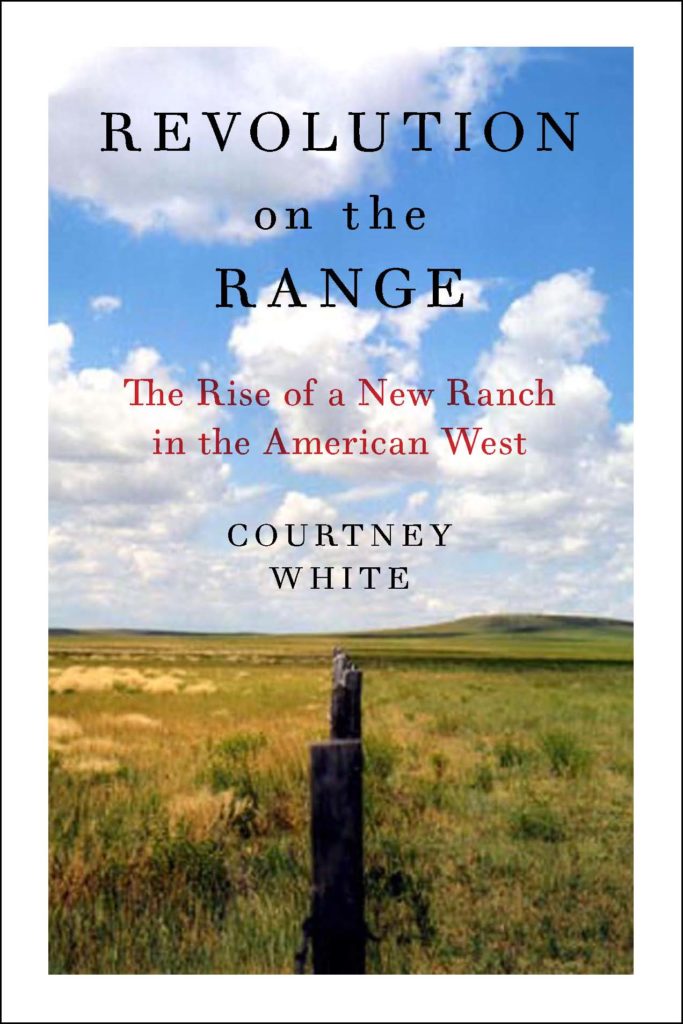 Revolution on the Range: the Rise of a New Ranch in the American West
In the final decade of the twentieth century, the American West was at war. Battle lines had hardened, with environmentalists squarely on one side of the fence and ranchers on the other. By the mid-1990s, debates over the region's damaged land had devolved into political wrangling, bitter lawsuits, and even death-threats. Revolution on the Range demonstrates that ranchers and environmentalists have more in common than they've typically admitted: a love of wildlife, a deep respect for nature, and aversion to sprawl. It includes stories from a new American West where cattle and conservation go hand in hand.
"I couldn't put Revolution on the Range down – so many good ideas from people who have discovered workable means to affect positive change in our local environments and ways of thinking about our place in the world. This is one of the most encouraging and inspiring books I've read in ages. Thank you, Courtney White!"
– Deborah Madison, author of Local Flavors: Cooking and Eating from America's Farmers' Markets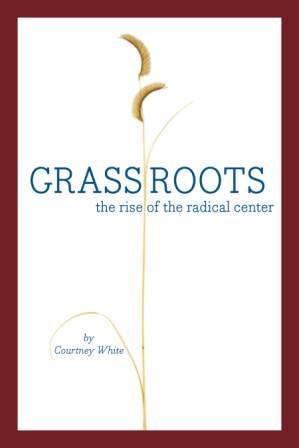 Grassroots: The Rise of the Radical Center
This book includes three columns that I wrote over the years – one for the newsletter of the Rio Grande Chapter of the Sierra Club titled The Uneasy Chair (1995-1997); one for the Quivira Coalition called The Far Horizon (1997-2006); and one for my web site titled The Next West (2009-2011). The first two columns chronicle the rise of collaborative conservation in the Southwest as it happened; the third explores what happened to the so-called New West.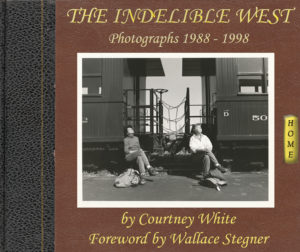 The Indelible West: Photographs 1988-1998 / Foreword by Wallace Stegner

"The West as a place and a process created indelible impacts on our nation and continue to change us to this day, and will never stop doing so. The frontier is very much alive. That's because the meeting-line between nature and culture, visible on the land and in its people, is constantly evolving and renewing itself. The photographs in this book are a snapshot of one moment in the frontier's evolution, the intersection of a time and place now gone." – from my Introduction
"What we have in Courtney White's book is a recording of one passing phase of that frontier. And what a pleasure it is to see the real Wests captured in their flow! What a reassurance it is to see the Wests recorded in their living reality, instead of getting another view of someone being cut off at the pass in the Alabama Hills of the Kanab Desert, shooting wildly with both hands from guns that never need re-loading." – Wallace Stegner from his Foreword (1992)
View the PDF of Stegner's Foreward Here
(published as an online book 2012)
Knowing Pecos: a Small History of a Big Place
"No other national park unit in the nation can tell the story of human history in North America as Pecos can; and no other park can do so with the aid of such an attractive landscape… Everywhere I went in the park, I ran into beauty and intrigue. Better yet, nearly every enchantment concealed a secret: the foundations of an abandoned home in a pasture, the remains of an old mill in a grove of river trees…We often joked that the whole park was one big archaeological site, and we were not far wrong. Beauty and history are interwoven at Pecos and their inseparability made every day an adventure…"
– from my Introduction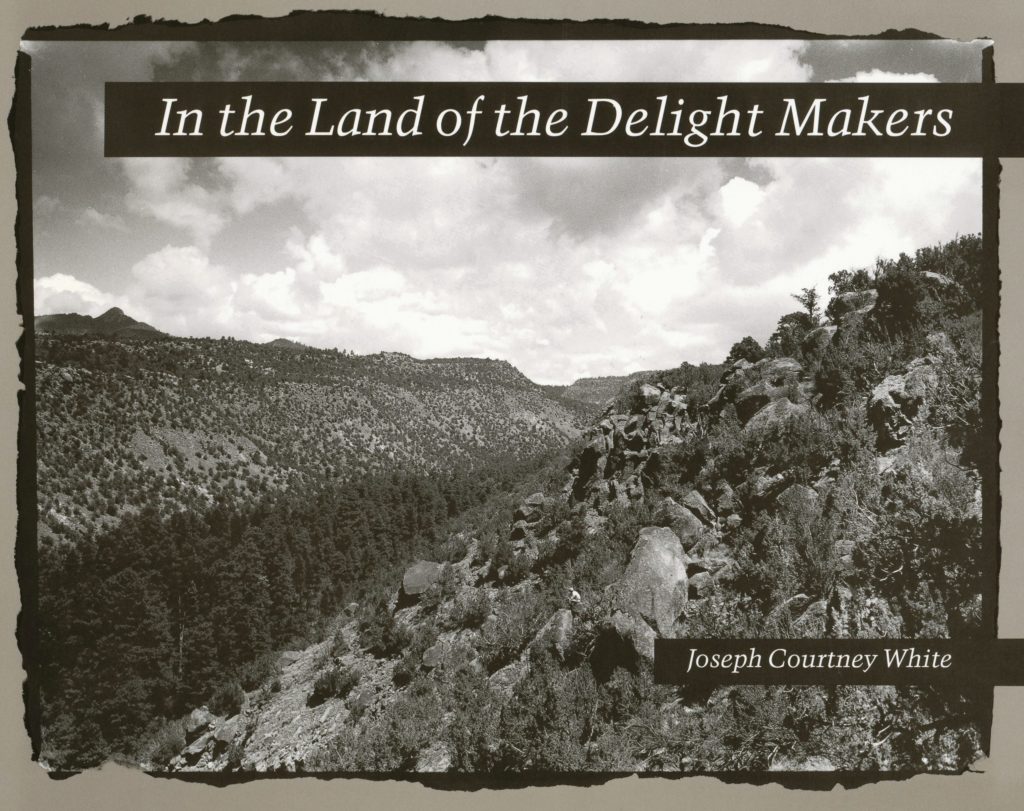 In the Land of the Delight-Makers: An Archaeological Survey in the American West
"During the summers of 1988 and 1989, I had the opportunity to work with the National Park Service's Bandelier National Monument Archaeological Survey as a photographer. Initially, I went into the field with the simple goal of capturing the spirit of the survey for the Park Service … I created this book with three goals in mind: first, to introduce a long-neglected aspect of archaeological fieldwork to the reading public; second, to contribute to the education of the archaeological enthusiast; and third, to place archaeologists in the larger context of the modern American West …" – from the Introduction
THIS BOOK IS NO LONGER IN PRINT – Download the PDF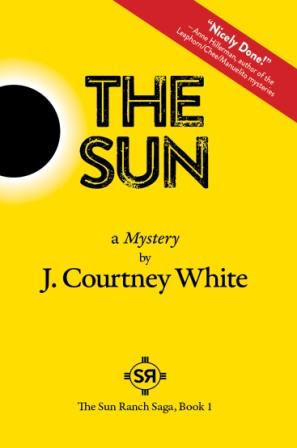 THE SUN (volume 1 of the Sun Ranch Saga)

A murdered ranch employee. A vanished suspect. A stolen rodeo horse. A black helicopter. Angry environmentalists. Menacing oil-and-gas developers. A Sasquatch hunter gone astray. A mysterious billionaire. A missing can opener…
Without warning, Dr. Bryce Miller, a young doctor in Boston, inherits a large, historic ranch in northern New Mexico from a wealthy uncle she barely knew. She flies out to sell The Sun to the highest bidder, but things get complicated when a body is found murdered on the ranch. Is it a warning meant for her? Meanwhile, she must choose among a colorful cast of suitors who want to turn the working cattle ranch into either: an upscale housing development with golf courses, an oil-and-gas field, a nature preserve, a casino resort, the underground home for a doomsday cult, or the plaything of a shadowy business mogul. Each is willing to pay a large sum of money – and maybe do anything – to get the ranch. Bryce has seven days to decide.
"In this far-ranging debut novel, Courtney White creates a story worthy of his deep and detailed knowledge of the American West today…. Nicely done!" Anne Hillerman, New York Times best-selling author of the Leaphorn/Chee/Manuelito mysteries
"I am not at all a mystery reader, but I absolutely loved The Sun and I can't think of a better person than Courtney White to tell this tale of the New West. The Sun is a true page turner and very informative about ranching and the West whether you live in the region or hope to visit. A very engrossing read, indeed!" – Deborah Madison, author of Vegetable Literacy
"White's ambitious fiction debut does an efficient job of scene setting, from "the rich colors of the high desert" to the locals with their competing agendas, and his appreciation of the American West shines through." – Kirkus Reviews
"As the intrigues unravel in this battle over values — all kinds of values — in contemporary New Mexico, Courtney White's displays a rare affinity for activists, eccentrics, knaves and zealots. And it revolves around as interesting a woman as you'll find in current fiction." – Chris Walters, Acres U.S.A.
"Courtney White's The Sun is at once an entertaining murder mystery and an earnest look at the many crises confronting the American West. As it sweeps us into a compelling tale of suspense and intrigue, it also teaches us about the dangers that anthropogenic threats like real estate development, fossil fuel production and chemical pesticide use pose to both natural ecosystems and human health. The world of the novel feels real, its characters and plot locations meticulously realized. The answer to its core mystery, however, remains deliciously elusive until the book's finale. A longtime environmental advocate with a focus on fostering land health, White has previously written several nonfiction books. The Sun is his first foray into fiction, and it's a solid debut." – Frank Kaminski, Mud City Press
"I really loved this book and literally could hardly put it down. It reads as a genuinely authentic tale because Courtney White has been there, living and wrestling with all this stuff for decades. It was fantastic to read about herds of cattle and electric fence in the context of a mystery novel—first time, I'm sure, that's ever happened! I appreciated how Courtney weaved a wide range of complex elements and issues of the New West into such an intriguing storyline, and loved the authentically rich cast of characters. I also appreciated so much Courtney's sane and balanced treatment of political differences—obviously so needed in our current climate. I'm REALLY looking forward to the next installment of the Sun Ranch Saga." – Jim Howell, rancher